It's the third season of Drag. The roar of street machines will bang their heads in crazy excitement on the walls of Yas Marina drag racing strip this weekend. UAE's most exciting urban racing series is in its third edition and mean machines and modified tractors will line up for oil spitting, smoking bravado.
The press release sounds like a feast: "Throughout the two-day event more than 100 of the UAE's best urban racers will put their street racing machines to the test in the region's rawest, grittiest, ultra-competitive environment and battle it out for more than AED 25,000 in cash prizes."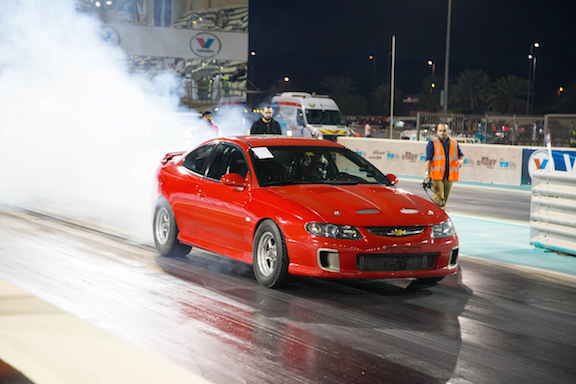 5 categories of contest include; 4×4 Super Street SUV'; 'Index 11.5'; 'Index 10.5'; 'Index 9.0' and 'Super Street – Open Category'. This season promises to be even more exciting with a lower cost of entry: only AED 400 per driver, and with access to the pit lane for support crews costing only 100 AED.
Those quickest off the line can win a range of cash prizes – A third place will fetch AED 5,000 while the second on the board will take home AED 10,000 AED and the first AED 15,000. Grandstand is open for friends and spectators for AED 50, while a valid student ID can get you in for AED 30. On-site food trucks are there for hungry folks. Well, if you wish to show off a bit outside of those cars, you have VIP tickets selling for 250 AED, providing access to VIP parking (that's useful), as well as the best viewing seats in the house (just in case), the drag paddock area. More on Yas Super Street Challenge is available at www.yasmarinacircuit.com or call 800 YAS (927).
Dates: Thursday 19th and Friday 20th January 2017
Inspection begins: 2.00 pm Qualifying Round 1: At 6.00 on Thursday; Elimination on Friday: 4.30 pm 
YAS SUPER STREET CHALLENGE THIS WEEKEND
was last modified:
January 18th, 2017
by