Honest drivers of commercial vehicles should be rejoicing that they don't have to wait around for bills, and never again shall an accusative finger rise about underhand dealings happening between them and petrol station attendants. Fleet owners should be happy that they are back in the driver's seat when it comes to managing maintenance resources, wherever they are. Accountants should be happy too, for real time updates of their ledgers and logs even as their company vehicles get a refilling.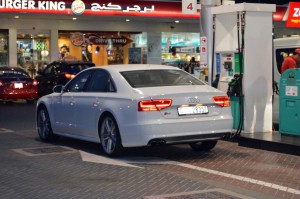 Emirates National Oil Company (ENOC) and Emirates Petroleum Product Company (EPPCO) have made everyone happy with their path-breaking Vehicle Identification Pass (ViP), a Radio Frequency Identification (RFID)-based fuel retailing system.
In less than six months of its launch, over 1,000 commercial customers/fleet owners amounting to more than 20,000 vehicles have already registered in the ViP system with over 100 new vehicles added every day. Avoiding the need to be monitored by an attendant, ViP recognizes the vehicle through an electronic chip that is mounted over the fuel tank inlet of the registered vehicle. The system automatically debits the fuel charges from the registered user's account at the same time.
The advanced radio frequency technology only permits an earlier set limit and fuel type to be filled and thus puts the fleet owner in command. Unlike the conventional card system, all ViP transactions are online and updated in real time so that fleet management can access it anytime. It also eliminates the tedious billing process in the card-based system.
Not susrprisingly, the ViP system had won ENOC the first place in the Technology Category at the "Ideas.Arabia" International Conference and Exhibition.
Automatic refueling is a big hit with fleet owners
was last modified:
February 22nd, 2016
by