Nicolas Hammann from USA. Gaetan Paletou from Pan Europe. Ricardo Sanchez from Pan International. Ahmed Khalid from the Middle East. As Nissan GT Academy 2014 winners will walk as one team towards their ultimate prize, they will be flanked by Florian Strauss, winner of GT Academy Germany 2013 and the fifth member of this coming of age mission.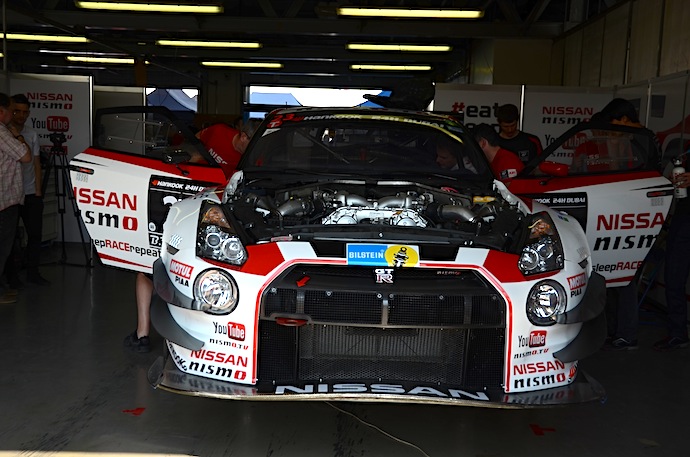 Dubai 24 hours starts tomorrow and will last through the weekend. The garages have already been populated with cars and men, and a few screaming women as well, who just attempted a hot lap in a GT-R. As I head towards the pit lane, I have to avoid scurrying feet, a dropping spanner and occasionally step over some heads buried under chassis – doing last minute touch-ups.
A visit along the tents and the garages is like walking the battleground, with flags raised and armours shining in each pavilion. This trip does not just show me the Nismo preparations for the endurance test. It is a close look and insight into the months of anticipation, sacrifice and perspiration that precede the rush down the pit lane for all of those awaiting flag-down for Dubai 24 hours.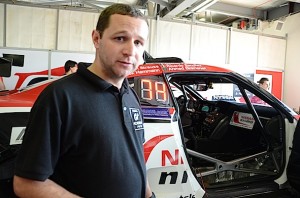 Now, Charlie takes me through the stripped down Nismo GT-R car that everyone seems to be working on in this part of the garage. Stripped down, and yet so much to tend to. Charlie tells me this one weights 1375 kg only, which is 360 kg less than the GT-R I drove. I scan the cabin and find fewer buttons than I expected, besides the detachable race steering and a skimpy screen that displays all the info the driver needs! The Nismo GT-R is more aerodynamic with a spoiler almost the size of the wings of a biplane.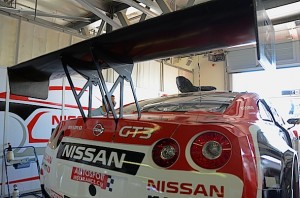 The Nismo racing version is spiked up in terms of safety. It doesn't have seats or leather frills. Instead, each driver will carry a customized seat that will slip into the fixed seat. A cool air tube that plugs into the helmet to keep the head cool through those ninety minutes of sizzling hot laps (how cool is that?), a safety net and anti-roll bars behind complete the safe cage.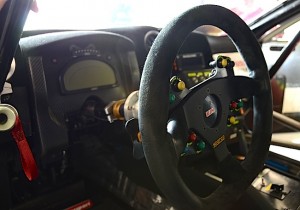 What if the driver needs a drink? Just press the 'drink' button next to the steering and it will spit water through a tube that extends almost till the lips of the driver. (These water bottles also change at the time of a driver-change, but Charlie tells me many drivers simply 'forget' to take a sip in their excitement!)
All except Strauss are a bit green behind the ears, freshly weaned off the training pads across the UK, where trainers like Charlie and Rob have sat by them in silence, spoon-fed them, set their heart pounding at its own pace before applying the balm of calm to prepare them to last longer. The last skill really would count in here because this is an endurance race.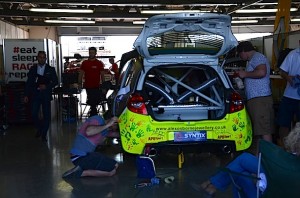 I ask Charlie if the endurance lessons aren't the toughest to settle in, which he acknowledges. But then, the 24 hour drive is going to be split among five of them and each of them would go hardly an hour and a half at a stretch. Still, it is a game of fitness and that's where I move to next. After a quick evaluation of muscle strength, fat content and body proportions, the machine tells me that I could become a race driver if I wanted – I'm relieved! But then, that bit of info came a little late in life and I'm more worried about the new weight loss target the machine set for me!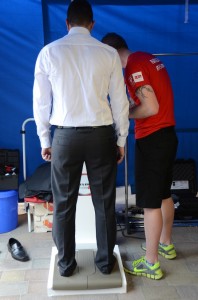 That is when Ahmed Khalid delivers his last batch of daredevils, who seek the venom of the track. They seem to have given a tough time to their vocal cords and Ahmed a tinnitus. The GT-R can do that, I say, with half of what that launch control can do! Ahmed steps out triumphant in eliciting the last scream these poor souls could afford. This man looks all set to endure the Dubai 24 hours tomorrow.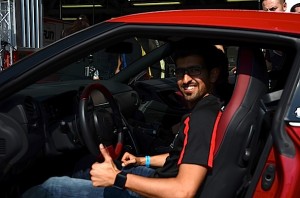 Ahmed will be racing for the first time on a full race specs Nissan GT-R NISMO GT3. Dubai 24 Hours will be his first international racing experience, and his coming of age gift as a graduate from the GT Academy 2014.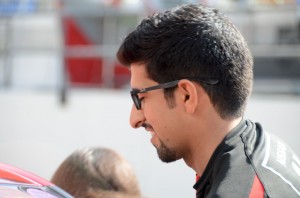 Backstage with Nismo GT3 team before Dubai 24 hours
was last modified:
February 22nd, 2016
by