Bentley has launched what is, till date, its fastest and most powerful production model – the third iteration in the Supersports legacy.
A top speed of 336 km/h (209 mph) and a 0-100 kmph time of 3.5 seconds (0-60 mph in 3.4 seconds) are hello facts for what Crewe calls the world's fastest and most powerful luxury four-seat car. Simultaneously launched, the Continental Supersports Convertible makes for its fastest counterpart in the soft-top world, with 330 kmph (205mph) and 3.9 secs (3.7 seconds to touch 60 mph) respectively.
The muscles are fine-tuned and there is a readiness about it all around, and it is no coincidence. Bentley's mighty W12 engine, redeveloped for the Supersports with new high-performance turbos and engine hardware, and a torque vectoring system has created a Continental Supersports as agile as it is powerful.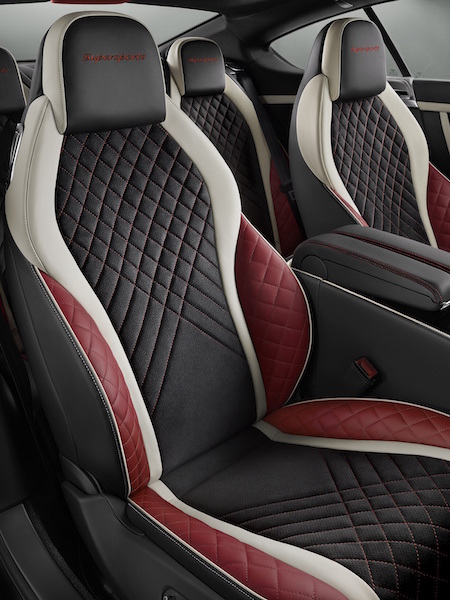 Higher-capacity turbochargers and a revised charge-air cooling system create more boost and additional power, demanding an upgrade to the Continental's cranktrain, including new main and conrod bearings. Meanwhile, a new torque converter quickens its act so as to make maximum use of the enhanced torque figure of 1,017 Nm.
2009 Supersports Vs 2017
These extensive engine revisions result in an increase of 79 bhp and 217 Nm (160 lb. ft.) over the 2009 Supersports model – a 10 percent power-to-weight and 25 percent torque-to-weight ratio improvement.  The top speed rises by five miles per hour while the 0-60 mph time drops by 0.3 seconds. The new Supersports is the lightest-ever iteration of a Continental GT and lighter than the 2009 four-seat Supersports model.
The super-speed has been complemented by the superb braking! High-performance carbon ceramic brakes with enhanced cooling and brake discs that are the largest of their type in the world provide excellent performance with minimal fade under extreme conditions. This dynamic system brakes individual front and rear wheels during acceleration out of corners to increase performance, whilst maintaining full power to unbraked wheels, and brakes the inside rear wheel on turn-in to improve agility.
The brakes and the lightweight 21" forged alloy wheels, together offer a 20 kg weight saving in unsprung mass, plus 5 kg through an optional titanium exhaust system. The new Supersports retains the rear-biased torque split of Bentley's all-wheel-drive system, sending 60 per cent of the engine's power to the rear wheels as standard but it can very well adjust the power split between the front and rear wheels depending on available traction.
Not many cars can make this claim, or rather live up to it: Despite the focus on sharper driving dynamics, the Supersports' lowered and stiffened dynamic suspension set-up retains its luxurious ride quality for supreme comfort.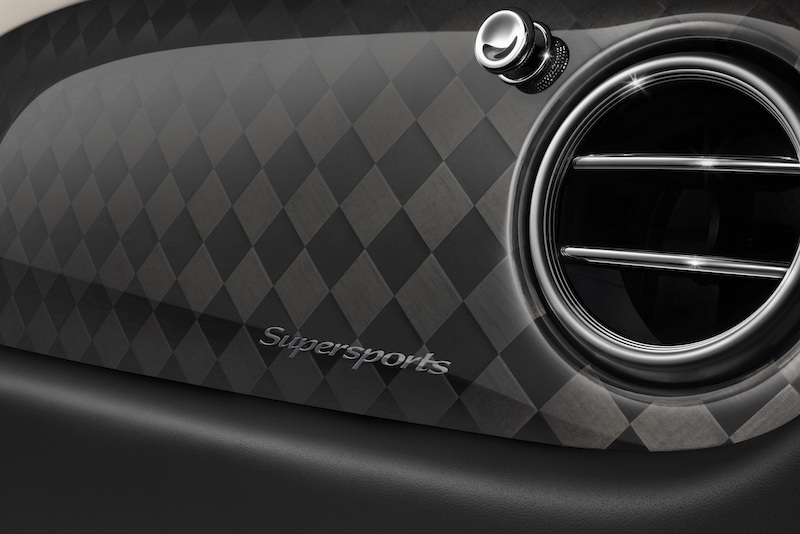 The new Continental Supersports Convertible
The refinement of the coupé gives way to a head-turning open-tourer at the touch of a button. The multi-layer hood ensures high levels of refinement and acoustic insulation. Exhaustively tested in all conditions from -30°C to +50°C or more, it resists even monsoon-force rain and maintains comfortable, draft-free warmth even on the coldest days, in the style of luxury you can expect only from a Bentley – with a neck warmer. The available titanium exhaust option stages a more intense audible experience for those keen. The Titanium system is not only lighter but also has a bespoke, less intrusive stability control calibration for a more precise chassis response.
Supersports through the ages
Wolfgang Dürheimer, chairman and chief executive of Bentley Motors, said: "The Supersports name is legendary at Bentley. From the very first Supersports of the 1920s, to the Continental Supersports of 2009 – and now with the third iteration of this iconic model – it is a name that excites, impassions and thrills. Only Bentley could create a car which blends immense performance and unrivalled luxury in this way."
Bentley Continental Supersports is back with a bang
was last modified:
February 9th, 2017
by