Chevrolet has just launched the region's first-ever online car buying portal. We ask some touchy questions to see if it is thought through.
There is one difference between old cars and new cars. Every old car is different, even if the model is the same. However, all new cars are the same: no matter where you buy them! The usage, care and condition make the big difference to old cars. Which is why, we look for an old Impala across the pages of classifieds or choose from the umpteen options available on online portals. As for buying a brand new Impala, we simply walk into an Al Ghandi showroom (if you are in Dubai).
That is, until now. Until Al Ghandi and Chevy made it possible to shop on the e-commerce page of their website, right from finding the specs of a model, booking a test drive, arranging for finance, discussing and finalizing a deal and even actually buying a car and getting it delivered home! The best part is, various aspects of a purchase cycle can continue without hindrance, even during a holiday or after office hours.
[Search in Google could bring up worldwide results. Here is the page link: http://chevrolet.alghandi.com/shop-online/]
The website shows you every available car in its actual colour along with its price, monthly installment and any ongoing offer. The inventory online reflects the bookings and buying; so if a car isn't available on the website, it isn't available on site. Simple.
Chevrolet and Al Ghandi are pioneering the concept of SHOP. CLICK. DRIVE. in the GCC but is there precedence? Yes, it seems. Three years ago, Chevrolet pioneered the same in the US with a network of 1900 dealers, and 35,000 cars got sold so far, according to Abdallah Madhoun, Regional Sales & Marketing Manager, Chevrolet. Even during beta testing of the site, the response has been encouraging according to Chevrolet Officials. Not surprising, if you consider many markets including the US, Singapore and Japan have 'car vending machines' selling luxury vehicles!
See it for yourself in this video.
Chevrolet's study showed encouraging results. "48% of current customers are open to online purchase of cars. 91% of them already go online to research and compare cars. For Chevrolet, customers coming through the digital platform has grown 450% in two years," says Kyle Gilliam, Sales & Marketing Director, Al Ghandi Auto. 'Shop. Click. Drive.' is designed to assist in decision-making and make owning a car a home screen task.
Find out more about online car buying pattern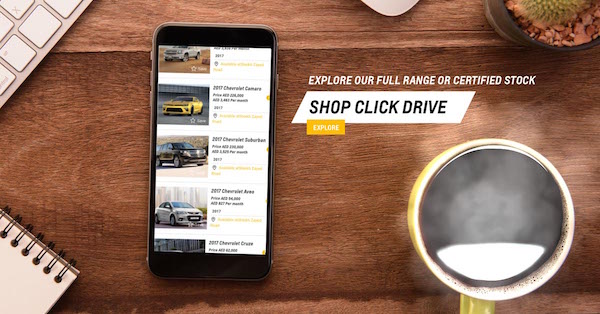 Is it the same as showroom purchase?
While you might be able to buy cars online like you shop for a selfie-stick or a pair of socks but car buying is not quite the same. For many, it is often a festival for the entire family. It is a high value purchase second only to property. Handing over a new car to its owner is a 'ceremony' performed with equal involvement from the dealer as well as the customer. While shopping at the showroom, existing offers are often modified to suit customer's situation. Buying a car often involves a test drive.
Now, will online buying throw these advantages out the window?
The answer, according to Chevrolet and Al Ghandi officials, is an emphatic No. For instance, what will be missed about the showroom handover is amply made up by the home delivery of the car (if requested) by a professional sales advisor, who will facilitate a thorough briefing and walk around. It can even be arranged to surprise someone! "Isn't getting your car delivered at your door step by itself a celebration?" asks Abdallah. He does make sense.
After inculcating a test drive culture at long last, what will this mean to the demo?
The e-commerce website "is not meant to replace the traditional buying cycle for the customer. We will encourage customers to get behind the vehicles." In fact, Al Ghandi has a large demo fleet of 70 cars. A test drive can be arranged through the site and, depending on availability and access, even conducted around the customer's home in some cases.
What about Auto Loans?
Currently, customers are led to Al Ghandi's financing department to initiate and finalise the documentation process of an auto loan. They are working on integrating it even further. The promise of not having to step out of home can still be maintained if the customer service executive visits the customer's home with necessary documents.
How is registration done?
Al Ghandi is one of the larger dealers who have the RTA registration facilities at their premises. It can be one prior to delivery or even at the time of delivery, perhaps at the customer's premises. Reassuring the new online customer, Kyle says: "They can change their mind, up to the point of registration."
What locations offer this service currently?
Dubai has a way of warming up to innovative ideas. Shop. Click. Drive is available primarily in Dubai but Chevrolet customers in Ras Al Khaimah also can make use of the delivery service. Eventually, Chevrolet hopes to take it across the Middle East.
Well, interesting turn of events, or should I say, inevitable? Now, car salesmen wouldn't have to try hard to make customers feel at home. For, they already will be!
Would you buy a car online? Think about it and tell us about it.
Buy a Chevrolet without leaving home
was last modified:
July 21st, 2017
by