Even before the echoes of the fluttering flag, that Lewis Hamilton waved as he crossed the finish line, subsided, CNN Correspondent Amanda Davies caught up with the new world champion, in an interview exclusively transcribed for Drivemeonline.
Amanda: There's no rest for the newly crowned F1 world champion, up doing the round of interviews in the early hours of Monday morning.  I'm pleased to say I am joined by Lewis Hamilton –
Lewis: Thank you –
Amanda: At what point does it sink in that you are now a double world champion, has it sunk in?
Lewis: It hasn't really no and generally every time that I have had an experience, obviously I have only had it once with this kind of championship, but growing up it takes time some time because it's a long season, it's not just a one-off race and there's a lot of emotions and a lot of focus that has gone on through the years so I think the initial feeling is of relief, of course massively proud of the group of people that I have been working with and of course very much conscious of what we've achieved and what I've achieved but I think the whole '2-time champion' is going to take some time to kick-in.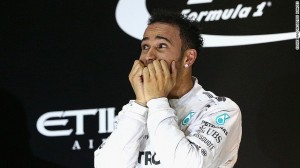 Amanda: And drivers in the past speak about what it's like battling a teammate, it's almost better to beat a teammate than a rival from another team. The fact that you've been going head-to-head with Nico this season, the fact that he was a childhood friend, does that give it something extra special or is it tinged with perhaps you shouldn't celebrate as much as you would want to?
Lewis: Neither.  It makes no difference with who you are competing with, you want to beat the guy with whoever you're fighting for the championship with.  Obviously you always want to beat your team-mate because he's in the same car, same car with same equipment, same opportunities so perhaps it's even sweeter when you do beat your team-mate cause obviously people can see the difference between you but yeah I had a great competitor throughout the year, I wouldn't want it any other way, I wouldn't want it easy, that's for sure and I definitely don't feel I ever had that way.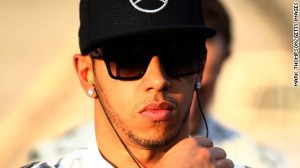 Amanda: Have you properly spoken to him since?
Lewis: Well it's been pretty busy since, he came and saw me just before I went on the podium, then I saw him in the garage when we were with everyone and then I haven't seen him since.  A lot of people to shake hands with, a lot of people to hug and thank, a lot of people to really embrace because I didn't do this on my own.
Amanda: How do you think Toto would describe managing the two of you this season?
Lewis: Naturally as a boss he'll say it was tricky and he'll make it sound like it was harder than it really was…
Both laugh
That's what the boss' job is but I think ultimately the team as you saw it, for sure it was not easy and it never would be in a fierce competitive battle but I think as a team we handled it better than any team or group of individuals would cause it was on the edge you know, it was life or death, we both wanted it more than anything we'd ever desired in our life.  The team wanted to win the championship and their priority was to get both cars across the line and us as drivers that was our priority but we wanted to be the one ahead so you're always bouncing off the limiter.
Amanda: So it's been six years from title number 1 to number 2, some say too long, how long to number 3?
Lewis: Oh geez I have no idea, I'm just going to enjoy this one.  Winning the first world championship was something very, very special, it was obviously my dream as a kid and even today, it was my dream to get this championship and it feels like it was the first time, maybe because it has been those six years it does feel like it is the first time and you know I am going to enjoy it, I'm going to embrace it with my family and go to the factory and see the guys and really get to enjoy it.  They've won the constructors' championship so they have a championship and now I have my championship that I have been working for, for so long.
Amanda back to camera:  Well absolutely, well deserved, congratulations, thank you very much Lewis Hamilton.
This is Amanda Davies for CNN in Abu Dhabi.
[Drivemeonline.com and DriveME facebook community thanks CNN, The Circuit and Amanda Davies for this exclusive transcript.]
F1 backstage: Hamilton Exclusive Interview
was last modified:
February 22nd, 2016
by