The 87th edition of the Geneva International Motor Show opens a window for the world to feel Ferrari power at its peak once again. As the name suggests, the 812 Superfast is a 12 cylinder berlinetta with 800cv power and it is the most powerful and fastest Ferrari in history. It is a significant chapter in the Prancing Horse story, whose official start was made by a 12 cylinder in 1947, 70 years ago, and celebrated milestones like the F12berlinetta and F12tdf.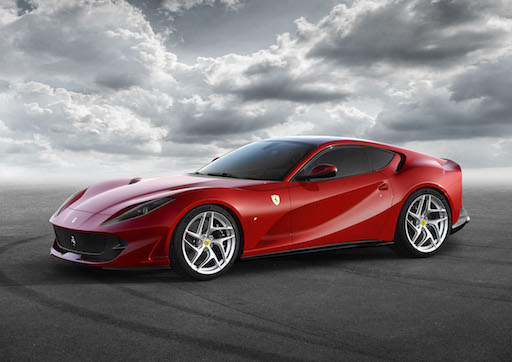 Engine
Powered by a new 6.5-litre V12 engine that unleashes 800 cv, the 812 Superfast is the new benchmark in the mid-front-engined sports car segment, achieving maximum power output at 8,500 rpm, which translates to a specific power output of 123 cv/l. Figures that no other front-engined production car has ever even come near to delivering and which ensure the kind of thrilling top-end performance that is the exclusive characteristic of Ferrari's noble V12 heritage. The larger engine even improves the engine's full, rich and famous tenor.
While the torque peak of 718 Nm is achieved at 7,000 rpm, 80% of it is made available at 3,500 rpm. This ensures greater driveability and immense pick-up without digging into the foot well. Ferrari makes this possible by adopting a 350 bar direct injection system for the very first time on a high-performance engine, and fuel delivery components inspired by naturally aspirated F1 engines.
The 812 Superfast boasts of a quicker and sharer throttle response. This has been achieved by the specific gear ratios of the dual-clutch transmission combined with shorter shifting times between gears.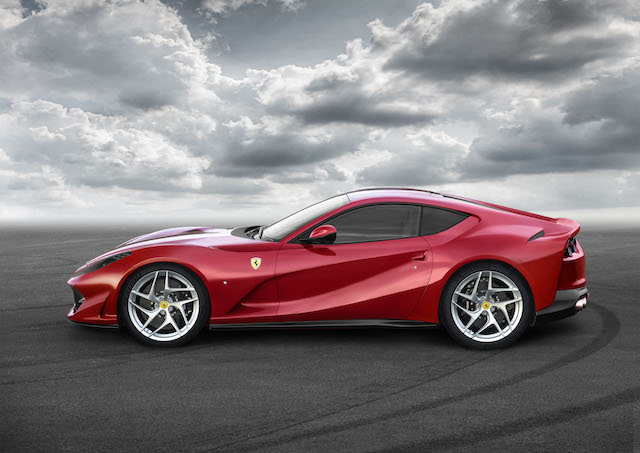 Vehicle dynamics
Constant improvement is the raison d'être of a Ferrari and the 812 Superfast is the first Ferrari to sport EPS (Electric Power Steering) fully integrated with the latest patented Side Slip Control 5.0 and the rest of the electronic vehicle dynamics controls.
The Virtual Short Wheelbase 2.0 system (PCV) is also a Ferrari-first hailing from the F12tdf experience, and the software results in making the Superfast even more nimble and responsive.
Design and styling
The Maranello release describes the design thus: "Seen in silhouette, the 812 Superfast has a fastback sleekness: a two-box design with a high tail reminiscent of the glorious 365 GTB4 of 1969. The design of the flanks visually shortens the tail and is characterised by impressively muscular wheel arches which imbue the 812 Superfast with the power and aggression warranted by its imposing V12." Style and aerodynamic function meet seamlessly: as in the active flaps at the front of the underbody, and the aerodynamic by-pass in the rear flank to increase downforce.
More ergonomic seats find a place in the cabin and so does a new steering wheel and instrument clusters as well as the latest infotainment and air-conditioning units. The new special colour marks the company's 70th anniversary and is called Rosso Settanta.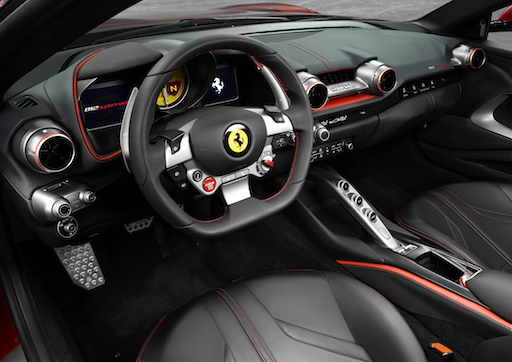 Engine        
Type                                                   V12 – 65°
Overall displacement              6,496 cc
Maximum power output *    800 cv (789 hp) at 8,500 rpm   (with 5 cv ram effect)
Maximum torque *               718 Nm at 7,000 rpm
Weight and dimensions
Length x Width x height          4,657 x 1,971 x 1,276 mm
Dry weight with lightweight options 1,525 kg
Weight distribution                             47-53% front/rear
Performance
Maximum speed                                 >340 Km/h
0-100 km/h                                          2.9 sec
CO2 emissions                         340 g/km
Geneva Gems 2017: Ferrari 812 Superfast
was last modified:
March 14th, 2017
by