For a few years now, Volkswagen enthusiasts had not many reasons to look beyond the Passat. There was the coupe-styled sedan which (still a favourite with me – read the review) left the Passat tag mid-way and defined it with an ambiguous CC badge; and still closer to the horizon was the people's version of a proper luxury limousine – The Phaeton. Great for the lucky guys who actually bought it (and the ones who got to drive it around a lot, like me! Here is the link just in case.) Well, while the one on the horizon set some years ago, the flagship has now been spotted on Genevese shores with a well-defined identity and a distinctive name to start with.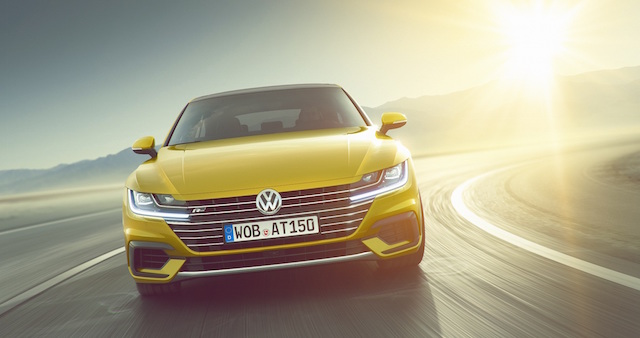 Positioned in the premium midsize segment, the fastback saloon will be called Arteon. Volkswagen promises "charismatic exterior elements and an exceptionally spacious interior architecture, with ample head and leg room for all seating positions, which is extraordinary for this body form". At first glance, one can vouch for the avant-garde design and the premium air that oozes through the pictures.
Petrol engines available are the 1.5 L with 148bhp (which the Middle East customer needn't bother with I'm certain) and the 2.0-litre units with 188bhp or 276bhp.
Needless to say, the new Arteon will feature the latest generation of driver assistance systems and new-age comforts enough to create many converts from the merely practical family sedan realm without drawing them all the way to an Audi A5 or BMW 4 series or a Mercedes E Class Coupe.
Alongside that there is a suite of driver-assistance tech, including headlights that use GPS to detect an impending bend and light it not waiting for the steering to turn. The cruise control can keep your speed adjusted to traffic signs ahead and sat-nav information. If the driver falls sick, it can slow down pull itself into the slow lane autonomously.
Andrew Savvas, Brand Director Volkswagen Middle East: "A charismatic new design combined with intuitive technology for a new generation of automobile enthusiasts – the new Arteon is a class apart."
Geneva Gems 2017: Volkswagen Arteon
was last modified:
March 14th, 2017
by