The fourth Gulf Intelligence Energy Markets Forum was held in Fujairah, under the patronage of His Highness Sheikh Hamad Bin Mohammed Al-Sharqi, Member of the UAE Supreme Council and Ruler of Fujairah. Addressing a panel discussion on 'Deepening Global Fault Lines – Energy Security and the Middle East,' Saeed Khoory, Chief Executive Officer of Emirates National Oil Company (ENOC), and a Board Member of the Dubai Supreme Council of Energy, discussed the visionary initiatives being implemented to promote energy security and sustainability in the UAE, particularly in Dubai.
Dubai Integrated Energy Strategy 2030 envisages the reduction of energy demand by 30 per cent by 2030 and making significant investments in building a renewable energy infrastructure. The goal is to have a diversified energy mix, with 71 per cent coming from natural gas, 12 per cent each from clean coal and nuclear while five per cent will be contributed by solar. The Mohammed Bin Rashid Al Maktoum Solar Park has already started operations of its first phase. Khoory pointed out that adopting the most advanced technologies and investing in new infrastructure would be crucial across the supply chain while implementing structural reforms in energy subsidies will help manage demand and consumption.
The forum also listened to an overview of the LNG facilities in the UAE and ENOC's role in UAE's sustainable energy initiatives. Introduction of eco-friendly green diesel blended to Euro 5 standards, and promoting Compressed Natural Gas (CNG) as a more cost-competitive and cleaner source of automotive fuel have been recent advances by ENOC. One of ENOC's pioneering sustainability initiatives was the opening of the first green service station in the Middle East in Dubai. It uses advanced technological devices to contain petrol fumes released at the pump and state-of-the-art systems such as solar-powered lighting, a 'waterless' car-washing system, new waste segregation systems and design upgrades to reduce noise pollution.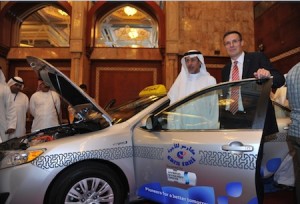 Cars Taxi launches Camry hybrid Taxis in Abu Dhabi
Why isn't every taxi on the UAE Roads a hybrid? Especially when it seems to be proven that savings in energy and expense is pronounced. Anyway, good things need to have a beginning. Al-Futtaim Motors, exclusive distributor of Toyota in the UAE, handed over a fleet of Toyota Hybrid Camry vehicles to the Abu Dhabi branch of Cars Taxi, end of last month. Earlier this year, a similar fleet was handed over to the Dubai branch of Cars Taxi. The deals have been accomplished with the patronage of The Centre for Regulation of Transport by Hire Cars, offering sustainable public transportation in line with the UAE government's commitment to a cleaner future environment.
"During a typical 700,000 Kms lifecycle, a Toyota Hybrid Camry will achieve a total of 35 percent reduction in fuel consumption compared to a conventional vehicle of the same category saving its owner more than AED 50,000 in fuel costs," explained Jon Williams, Managing Director, Al Futtaim Motors.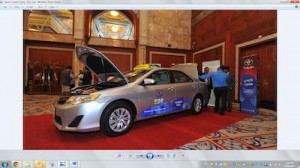 Upon receiving the vehicles, Abdullah Sultan Al Sabbagh, Executive Director, Cars Taxi said: "We are proud to become the first taxi operator to introduce hybrid vehicles in Abu Dhabi in line with our government's directives designed to reduce the nation's carbon footprint. Our own research has shown that the 55 new Camrys that will enter our fleet as a result of this deal will achieve CO2 emission reduction of 3,085 tonnes over 700,000 Kms while shaving off more than AED 3 million in fuel costs and parts."
Across 17 years, Toyota has sold over 6 million hybrid vehicles. The brand has 23 models on offer worldwide, four times more than any other competitor. The hybrid fleet has already saved more than 12 billion litres of fuel and 34 million tonnes of CO2 emissions compared to the same number of equivalent, conventionally powered vehicles.
Green Energy Initiatives: CNG promoted by ENOC while Hybrid Taxis reduce carbon footprint
was last modified:
February 22nd, 2016
by