Pedigree is an enviable thing. Like Paris Hilton's poodle that makes the world go green, cuddling up to her and counting eyeballs, while lapping up what dribbles down the glass that the heiress holds. The Land Rover Discovery Sport has pedigree but it is no toy poodle.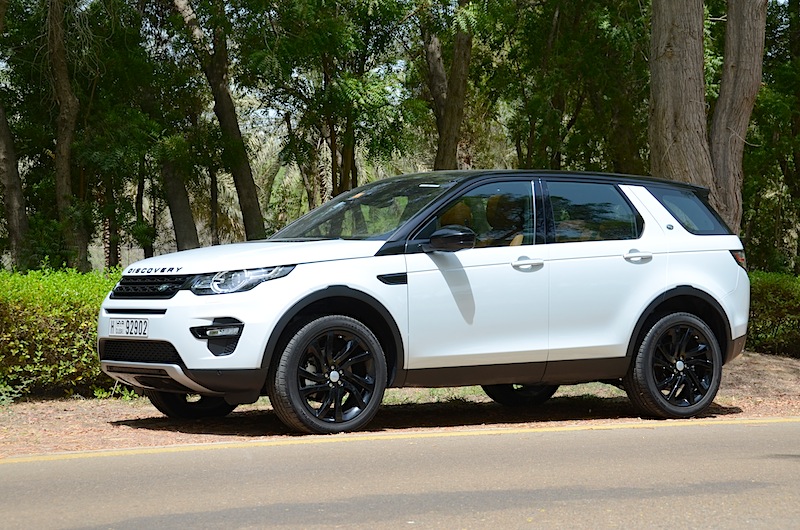 THE SPECS: 2.0 L All Aluminium 4-cylinder petrol engine Turbo-charged; 9-speed automatic with paddle shifts
THE DIMENSIONS: 4599 x 2173 x 1724 mm (L x W x H), Weight: 1744 kg, Maximum ground clearance: 212 mm (8 ½ inches), Wading depth: 600 mm, Towing capacity: 2000 kg, Load space: 981/1698 L (with second row down)
THE PERFORMANCE: 240 hp @ 5800 rpm / 340 N-m torque @ 1750 rpm /Top speed: 200 kmph; 0 – 100 kmph in 8.2 sec (book figures); Fuel consumption 6.0 km/L (on test)
STANDARD FEATURES: Terrain Response, 8" Touch screen, Cloth seats, Bluetooth and USB, Rear Parking Sensors, Keyless start, Land Rover audio with 6 speakers, 17" five-spoke alloy wheels
Available: Bi-xenon lamps with LED signature, Powered tailgate, Front and Rear parking sensor with rear camera, Windsor leather seats, 20" five split-spoke alloy wheels, Meridian™ audio with 17 speakers, HDD Navigation, Panoramic fixed roof, Cooled Front seats, Powered seats, Puddle mirror lamps, power fold mirrors, dual exhausts
SAFETY: Front, side, curtain and driver side knee airbags; Cornering brake control; Hill descent control; ABS, EBD and Emergency Brake Assist; Electronic Traction Control; Dynamic Stability Control; Roll Stability Control
THE PRICE: Starting at AED 169,000 for S, AED 184,000 for SE, AED 199,000 for HSE and AED 229,000 for HSE Luxury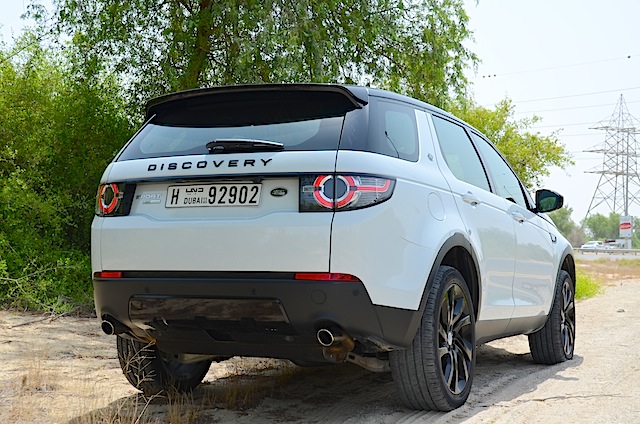 THE UPSIDE: 7-seater, Off-roading capability, all safety features are standard, Smooth drive
THE FLIPSIDE: A bit more excitement won't hurt, Fuel efficiency should improve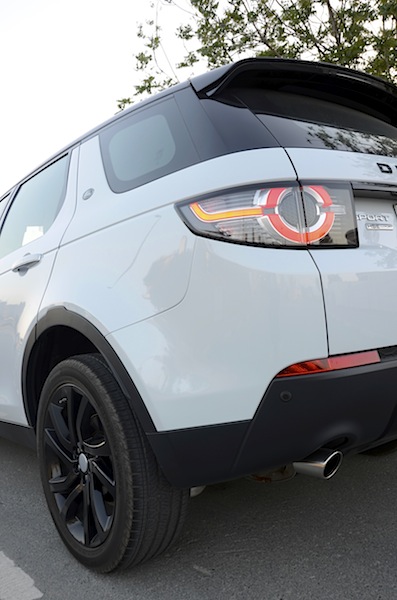 Half the charm of the new Discovery Sport comes from the family heirlooms. In fact, Land Rover wanted to make it clear that this sibling of the LR4, or Discovery as half the world knows it, wasn't a fledgling after all. This could be why it was launched in Iceland, a location where truly captivating SUV footage can be put together… by experts of course!
Familial capability is flaunted on the fold of the centre console – in the terrain modes. A taste for a Meridian sound system has also become standard for the JLR family. The interactive touch screen menu split into easy-to-access quadrants is another trait – quick and clever to operate the music, navigation, telephone and vehicular adjustments. Why, even the resemblance of the Discovery Sport to the Range Rover Sport or the Evoque is another gift from the pedigree!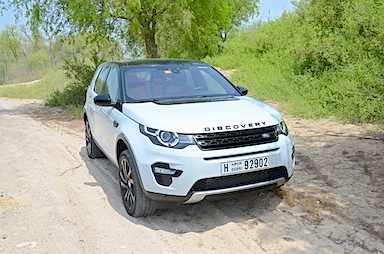 The Drive
The Land Rover Discovery has a familiar 2.0L turbo-charged engine four-pot (that is fast turning into the commonly preferred engine size across badges and brands) with an output of 240 hp and 340 N-m at 1750 rpm. What is new is the responsive 9-speed transmission. After a quick shuffling to gather power at the start, the tachometer races past 5000 – 55000 rpms, transmitting power smoothly along. The Discovery Sport also has a sport mode and paddle shifters that can keep you trigger-happy.
The Land Rover Discovery Sport drive can be defined as agile and composed; compact and light. In fact, it was surprising to find out it weighs over 1700 kgs! However, unlike the Range Rover Sport, the Discovery Sport doesn't encourage throwing sense away at the bends – starting with the body roll. There is a square pegged shift that you feel as the vehicle corrects its line during minor steering maneuvres. The braking happens softly on its big wheels, but effectively.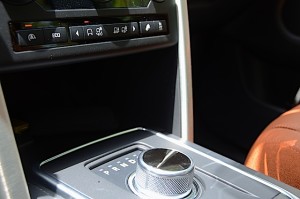 The 20-inch wheels seem to be huge for its size but add to the size of the tasks it can handle – 600 mm of wading depth and 2000 kg towing capacity make this 1700 kg car a capable off-roader. As for urban soft-roading, it seemed geared for a 'comfort-first drive' even as I crossed kutcha stretches at pukka speeds! The buttons at the fold of the console offer a choice of a general driving mode; grass, gravel and snow mode allowing more traction; mud ruts and sand. The outing equipment also includes hill descent control and traction-off buttons.
The fuel efficiency showed close to 18 L/100 km, which is appalling by today's standards for an engine of this size.
Coming to think of it, the Land Rover Discovery Sport is not pitted against trash – right from the Audi Q3 to the BMW X1, the compact SUV segment is growing. So is the base price of 169,000 and the 60 grand it adds on its way to top trim, justified? In defence, let's begin by saying this is no 'compact' SUV – it is a 7-seater!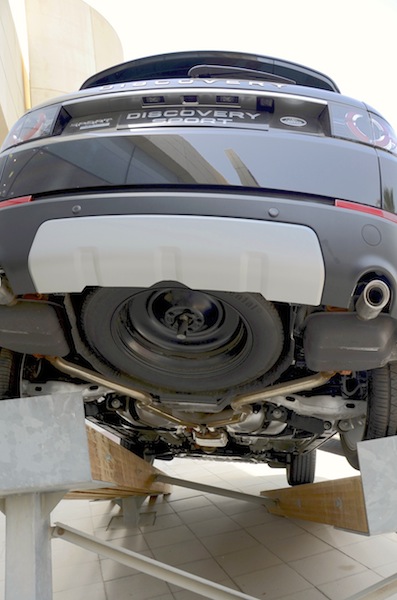 Family drive
The Discovery Sport has pleasant surprises under its trunk – two extra seats are among them. When they are not in use, the second row can be pushed back for greater legroom even while retaining boot space for three large suitcases and a cabin bag.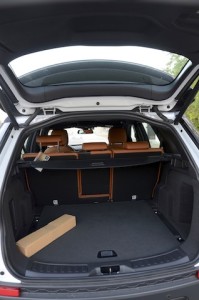 Above the seats, the Discovery Sport spreads a continuous expanse of tinted glass – it looks simply fabulous but doesn't move and might push the AC knob further down.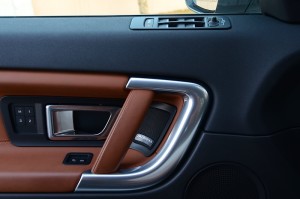 Land Rover has kept the insides matter of fact like the LR2, with just enough to make long drives comfortable. Pampering bits like cooled front seats and 17 speakers in the HSE Luxury version takes the price closer to a base Evoque making it a viable alternative for those who wouldn't want the 2 extra seats.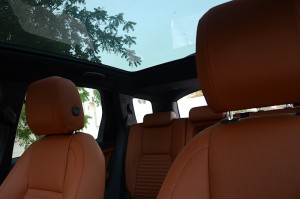 Cabin and Controls
Besides the Meridien The voice command thoughtfully covers phone, navigation, CD and radio. The buttons are stacked in rows of four on either side of the screen. It looks classic – read, boring – but the colour combination is quite the opposite.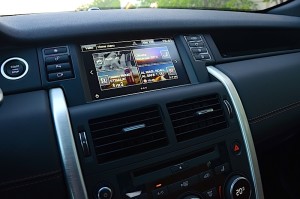 The vibrant orange of the Windsor leather seats and trims, especially the combination with black adds an obvious fun factor to the car. The Land Rover Discovery Sport is supposed to have that in plenty to survive among rivals – all of whom seem to be refreshing themselves ever so often to keep you and me interested.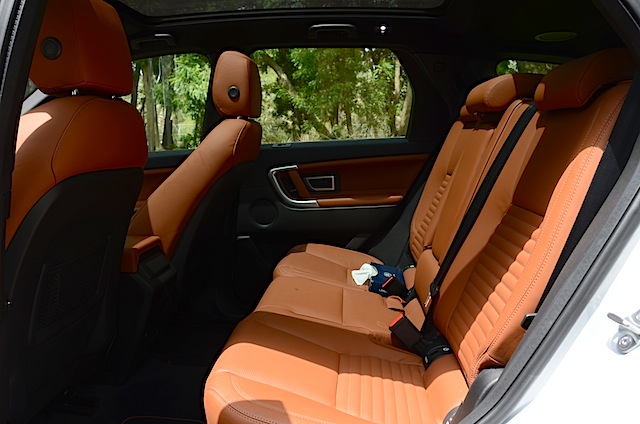 The essential Land Rover Discovery Sport
The Land Rover Discovery Sport has its own life in primarily two respects – it is arguably the most capable SUV of its size, it is a 7-seater, probably the only one in its category. The same price range might give you a larger car with multi-terrain choice and 7-seats, but a Ford Explorer isn't the badge Land Rover fans are looking for. Within the family, the difference between a Range Rover Evoque HSE and Land Rover Discovery Sport HSE is a full 50,000 dirhams. The value feels good as much as the drive, and it can keep its five regular riders happy along a long journey.
Land Rover Discovery Sport Rating
Looks -

8.5/10

Drive -

8.2/10

Ride comfort -

8.7/10

Safety -

9.0/10

Fuel Efficiency -

7.0/10

Practicality -

8.7/10
Land Rover Discovery Sport One-liner
Even though it might not urge you to pee on its rivals to mark its superiority, the Land Rover Discovery Sport works along your expectations from a not-so-exhilarating start to achieve a drive that lives up to your demands.
Land Rover Discovery Sport 2016 Review: Seven out of five
was last modified:
December 27th, 2016
by