When my tongue sizzles in the recall of my grandma's recipe of chicken, there is a restaurant that I turn to, with its secret concoction of sauces that sets the grill on fire. The order taker plants a knowing smile on his face and a tick mark beside 'extra-hot' on his hand-held digital menu. He knows these mavericks from the south will settle for nothing less. After all, if it weren't to relish the hot and the extra hot, why would someone care to dine here, right?
Wrong, says the restaurant owner. There could still be people who relish the onslaught of piri-piri chili peppers on their tongue, perhaps with a little less aggression. So the menu has a 'mild' too. Now, my spice snobbery aside, it does make sense. And that is why a 1.8L or 2.0 L turbo still makes sense at the lower spectrum of a BMW, Audi or Mercedes, or even a Jaguar. But not yet for this Maserati, which comes only in hot and extra hot – powerful, and even more powerful… The Ghibli and Ghibli S.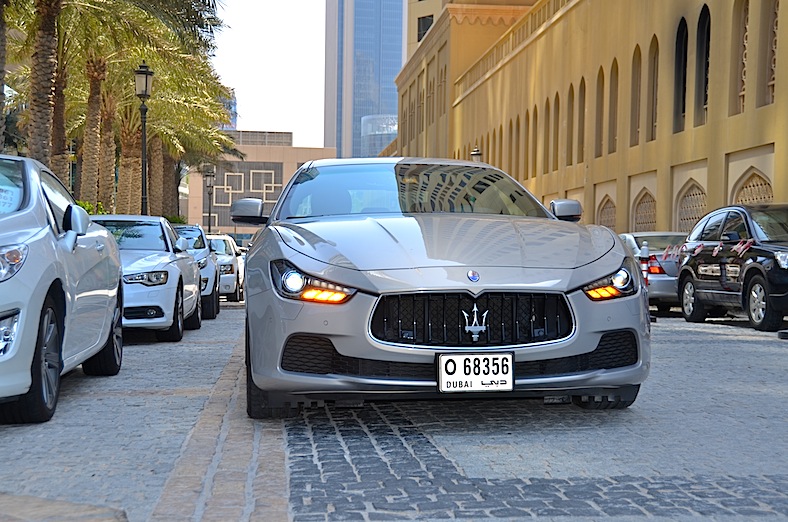 UPSIDE: Powerful and exciting, Delightful handling, Exotic badge value, Large-car boot space
FLIPSIDE: Narrow rear windscreen, grainy camera, Rear cabin low for tall passengers, still pricey
Uniquely Dramatic Feature: Adjustable accelerator pedal for optimum seating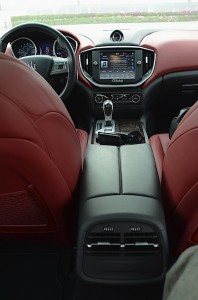 The Performance:
Ghibli: 330 hp @ 5000 rpm, 500 Nm torque @ 1750-5000 rpm, Top speed 263 kmph, 0-100 kmph in 5.6 sec (Under 6 sec during test), Braking distance: 36 m (118 feet) Fuel efficiency: 7.1 km/L combined
Ghibli S: 410 hp @ 5500 rpm, 550 Nm torque @ 1750-5000 rpm, Top speed 285 kmph, 0-100 kmph in 5.0 sec (Under 5.5 sec during test), Braking distance: 36 m (118 feet)
Ghibli houses a 3.0L Twin-Turbo V6 engine and 8-speed automatic transmission. Also available as the four-wheel drive Ghibli S Q4.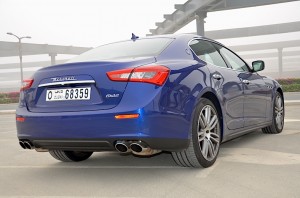 The Price: Ghibli AED 285,000 onwards Ghibli S AED 316,000 onwards Ghibli S Q4 AED 335,000 onwards
Dimensions: 4971 mm long, 2100 mm wide with side-mirrors and 1461 mm tall. Wheelbase: 2998 mm Turning circle: 11.7 m Boot space: 500 L Kerb weight 1810 kg (Q4 weights 60 kg more)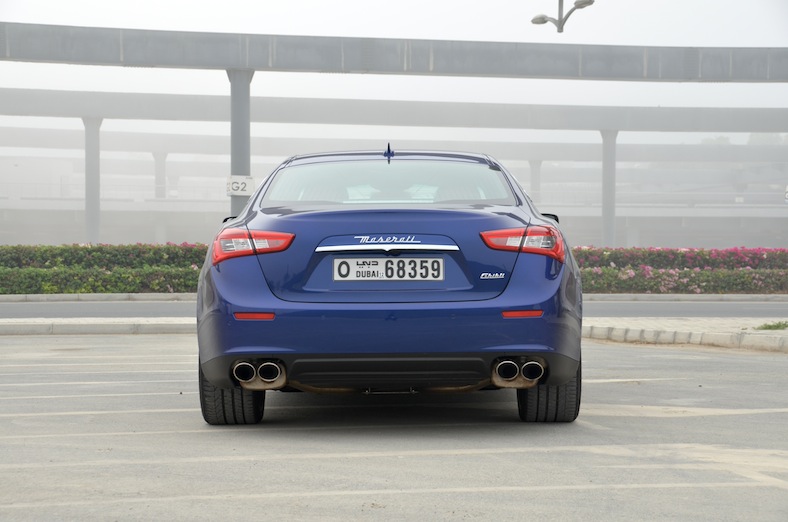 The Drive
The ZF eight-speed transmission of the Maserati Ghibli is the spine of some of the most smoothly engaging drivetrains ever to come out of Europe. In this case, it is mated to a twin-turbo 3.0 L engine that produces 330 hp even without the S badge. Quick and agile, even the turbo lag is a negligible hesitation that amounts to a 0-100 in under 6 seconds. Choosing the Sport button from the ones lining the gear console not only activated the over-boost but also blew the gag off the bazookas below.
Alarmed by efficiency displays like 16 L/100 km, I soon switched to the ICE mode, and the figures quickly cooled down to 14.2. Actually, 7 km per litre is tolerably fuel-efficient for a sweet Ferrari engine that croons within a seductive Maserati.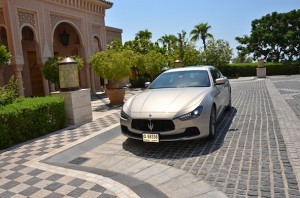 Cabin and controls
The 8.4-inch touch-controlled screen is almost square and keeps the dash clean but for a single-row of air-conditioning buttons. The cabin storage is thoughtful. There are even a couple of bottle-bottoms carved into the deep central console box. When I took out my phone from there, it was cold as a cola!
The right half of the screen kept displaying the GPS speed and location, where simulated road signs also showed up. The sat-nav guided me where I went, but some places were surprisingly unavailable. Like, Meydan, the home of the Maserati itself in Dubai ("!"). Voice Command function seemed to be offered for the song list, phone list and the destination input, which is brilliant, except that the attempts to speech-input an address drew a blank!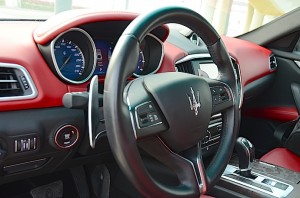 Seriously, that's all the bitching time I can afford myself for the Ghibli. Simply because, despite a grainy camera, a miserly rear windscreen and a couple of glitches on superfluous gadgetry, the Ghibli is one of the most desirable new cars to grace our starry vault recently. By the way, if you wonder why the sunroof isn't any bigger, I think the design language dictates thus, and it is just perfect.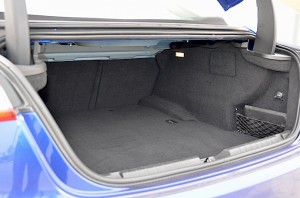 Where's the key, honey?
Italian chivalry notwithstanding, this time around, the Maserati machismo can draw them femme fatales to take position behind that almost sensuous steering wheel. The Ghibli looks and feels big and heavy, but its well-weighted steering wheel gives in just enough, and then some more! Those who love light and sensitive steering will love the feeling of oneness that takes the place of any intrusive feedback.
As graceful as any Maserati; shorter by a foot than the big Quattroporte and therefore more manageable; the unique setting that can move the accelerator closer without outstretching the foot… the reasons for women to fall in love with the new four-door from Modena are mostly practical.
The Ghibli blows away all gender bias as easily as a Mini Cooper or a Range Rover Sport does.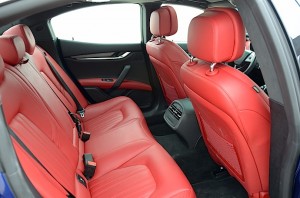 Family drive
The interiors of the Ghibli seemed to benefit from solid wood fittings chipped off a shipment for aristocratic living rooms; a refined Bowers & Wilkins music system delivering over 1500 W; rich and red leather seats with suede linings; a well-weighted steering wheel that seems poised to do a pirouette; and even an outlandish boot for a downsized quattroporte. Far from being compact, the Ghibli looks large and muscular and coupled with the ability to smoothly shave bumps off the road, this car can fill the iconic spot for that family sedan with a sporty edge.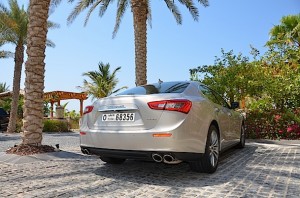 Points of Purchase
Similar in power, presence and price, the CLS 400, the 435i Gran Turismo, the Audi A7 and the Jaguar XF 3.0 Supercharged place the Ghibli in good company. A shade above your average premium consideration set. The Jag alone costs only AED 219,000, which is sixty six thousand less for 10 horses more than the Ghibli's 330!
Starting at AED 285,000, the price tag isn't light. A Ghibli with all that surplus dashboard leather, aggressive 19" alloys, and interior gadgetry costs AED 312,000, just four grand less than where the Ghibli S begins. But then, what keeps this young Maser apart is its vivacity and inherent audacity of an Italian charmer.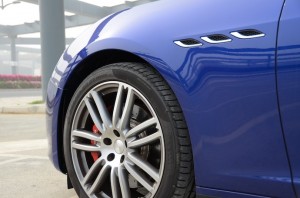 Hot or extra hot?
Face the fact: If you choose the Ghibli S, chances are you'll take the secret to your garage. For, there is no badge and few will recognize the difference hidden in the alloy wheels or the aluminium-style foot pedals. So, if you wish to keep the change, 330 horses will never fall short. On the other hand, eighty more at 375 dirhams per horse could be the least anyone paid for a quick trip over the moon.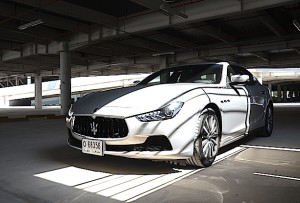 The essential Maserati Ghibli
An everyman's Maserati is a paradox of sorts. With the mystic of a Ferrari engine and the pragmatism of a Chrysler 300 platform, Maserati has shaped this paradox of an executive saloon to compel buyers to afford an unconventional choice and yet keep its exclusivity undefiled by growing popularity. With the Ghibli, the godfather of motoring in Modena makes an offer that's truly hard to refuse.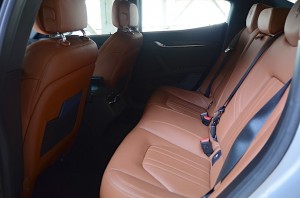 Drive Courtesy: Maserati Middle East
Pictures: Sudeep Koshy
Maserati Ghibli Review: An offer you can't refuse
was last modified:
December 27th, 2016
by