A couple of weeks ago, I was seated in the plush waiting lounge in the newly opened Rolls-Royce service facility behind the AGMC showroom. There were white pristine walls and galleries of Rolls-Royce memorabilia all around me, and slices of history showcasing the spirit of driving ecstasy in the pages of books stacked in the library. I had just helped myself to some delicious chocolates marked with the double R, a taste of luxurious hospitality that will welcome the Rolls-Royce owner during his or her visit to this facility.
Everything was white and pristine, until our guide for the day pressed a button and turned the white wall into a glass mirror, affording us a view of the Rolls-Royce vehicles in the service bay beyond. Keeping in line with the brand's policy of 'transparency', we were told, and just in case a Rolls-Royce owner would like to see his car being serviced. Starting from its open plan, minimalistic and transparent design, the facility mimics the Home of Rolls-Royce in Goodwood, England and even features a direct support uplink to Home Quarters through advanced diagnostic tools.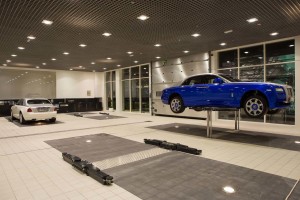 On the workshop floor, just big enough for a few Rolls-Royce cars at 5000 sq. ft., but remember this isn't a brand that runs the road dime a dozen – it was hard to summon the images of any workshop I had come across earlier in my life, be it the busy and advanced workshops of premium brands or the grubby and grimy workshops littered with waste cloth and grease, tucked away in alleys piled with worn and weary spare parts. This was a different world, pristine and invisible. Concealed jacks and tool kits and hydraulic lifts that surfaced only when in action marked the clean and hospital-clean environment. This wasn't a workshop. It was a five-star hospital for the world's most revered marque.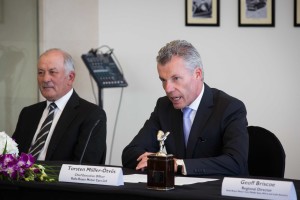 One in five Rolls-Royce cars (almost) sold around the world is in the Middle East. And AGMC, the authorized dealer of Rolls-Royce Motor Cars in Dubai, Sharjah and the Northern Emirates, is one of the top five dealers for Rolls-Royce in the world. Not surprising, they invested over 5 million USD in this facility, designed to provide Rolls-Royce owners an integrated brand experience at every stage of service.
It's a big day for R-R and AGMC. The world's most advanced Rolls Royce After-Sales Centre is now in Dubai. You can tell from the names that graced the opening ceremony. Torsten Müller-Ötvös, Chief Executive Officer, Rolls-Royce Motor Cars Ltd; Geoffrey Briscoe, Regional Director, Rolls-Royce Motor Cars Middle East, Africa and Latin America; Stathis I. Stathis, Managing Director, AGMC; all on the dais, and my humble self under the Rolls!
New Rolls-Royce Service Centre in Dubai: Transparent yet invisible
was last modified:
February 22nd, 2016
by