The news in brief: Nissan 370Z Drift Experience was launched in December. It is a school where anyone can learn and perfect the art of drifting. Now, about a feat of perfection in drifting…
The expansive parking lots of the global village were still awaiting the crowd that throngs the winters, especially on weekends. It was a weekday and time was well before sunset. So, the people gathered there were to view a record being etched on hard floor with burnt rubber. Nissan Middle East was aiming for a new Guinness World Records title for the longest twin vehicle drifting, during the launch event of the Nissan 370Z Drift Experience.
Soon, after an aborted first attempt, two Nissan Z cars managed to drift around a track at the same time without stopping for 28.52 kilometers.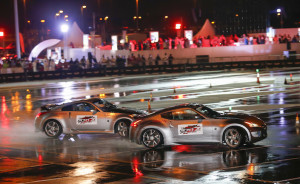 Speaking at the event Samir Cherfan, Managing Director, Nissan Middle East, said: "The Nissan Z is a very popular car in the drifting scene and this new record is yet another proof on the ability of this car to make drifting look so easy." For Nissan Middle East, it is yet another entry into the Guinness Book of World Records in consecutive years. Last year, in a demonstration of stunt and strength, a Nissan Patrol weighing nearly 3 ton successfully towed the world's heaviest aircraft – a 170.9-ton cargo plane for more than 164 feet (50 meters) at Sharjah International Airport in the UAE.
"Nissan 370Z Drift Experience" is a partnership between Nissan Middle East and the Prodrift Academy. The machines used are Nissan 370Zs and the drift instructors are the Prodrift Academy's professionals. Mohammad Al Falasi, Managing Director of the Prodrift Academy commented: "Our professional instructors are dedicated to transforming young talents into world class performers with the help of the iconic Nissan Z due to its controlling power."
For drifting enthusiasts, this is great news. Following the opportunity to learn drifting at the Yas Drift School in a Toyota GT 86, this is a great chance to pick up some tricks sideways in a 370Z, a successor in spirit to the Nissan Silvia, which is still a favourite at drifting championships.
Nissan 370 Z sets drifting world record
was last modified:
February 23rd, 2016
by