When it comes to cars, as with most high value purchases, the attitude of the market has been "Why not charge a premium, when the customer is willing to pay for the extras?" Fair game! Likewise, when the customer is willing to pay a little extra for tried and tested reassurance, any business house would see the opportunity but here the customer is nonetheless the beneficiary. Following premium marques such as Mercedes and Porsche, several popular car dealers have thus bitten into the 'pre-owned pie' and the latest is Renault.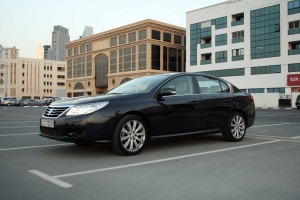 Arabian Automobiles, flagship company of AW Rostamani Group and the exclusive dealer for Renault in Dubai and the Northern Emirates promises superior quality, a generous warranty offer and 24/7 Roadside Assistance. The programme aims to improve their overall re-sale value in the market. It was only some months ago that Swaidan Trading, the dealer of their French compatriot Peugeot opened a pre-owned showroom, which is a multi-brand outlet yet hoping to benefit from the association with the brand Peugeot.
The Renault certified pre-owned Programme involves a comprehensive 145-point safety check as well as vehicle history and rigorous assessment of engine and drive train. The generous Gold Exclusive Warranty extends the power train coverage of a new Renault vehicle to a limited warranty of 12 months from the purchase date, or 30,000 kms on the odometer. Warranty claims will be dealt with at an authorized service center so that the owner can enjoy the advantage of trained technicians and genuine parts. Arabian Automobiles is even offering extensive engine, turbocharger, transmission and electrical coverage. Renault Certified Pre-Owned Programme customers also enjoy 24/7 toll-free roadside customer assistance and 3 free complimentary oil changes.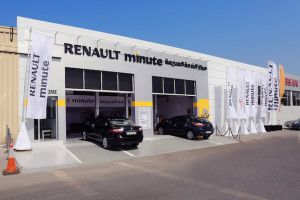 First Renault Minute service center in GCC now open
Arabian Automobiles, the exclusive dealer for Renault in Dubai and the Northern Emirates, has announced the opening of their first Renault Minute service center in the GCC. The facility is situated in Sharjah, Al Wahda, is part of an international service concept with 1500 outlets in 22 countries, recognized globally for its convenient service with or without appointment, clear promises and commitment to customers.
Renault minute will provide customers with extended opening hours, fixed price operations, free estimate on minor repairs, spare parts availability, direct customer/operator contact, immediate invoicing, 25 points free safety check and 12 months/10,000 KMs repair warranty.
Renault launches Certified Pre-owned programme and Renault Minute Service Centre
was last modified:
February 22nd, 2016
by