The ultimate extreme wheeler Toyota AT 38 is here. Al Futtaim kicks off Emirates Drifting Team. Audi wins Nürburgring on electric wings. Mini with a Rolls-Royce souls is here in the UAE. It's been an exciting week…
Toyota Emirates Drifting Team formed
It's been just made known that I was privileged to have been given a sampling of top-notch drifting during the Toyota 86 launch, by the Drift Champion of the UAE.
Ahmed Al Ameri has been announced the Drift UAE champion for 2011/2012; he has been nominated the ambassador for Toyota 86; and Al Futtaim Motors forms the Toyota Emirates Drifting Team. All that news in one breath is like overdosing on adrenaline!
The extreme machine Toyota Hilux "AT38" conquers UAE Desert
As a celebration of the 2012 Xtreme range, Al-Futtaim Motors flew in the unbeatable Hilux AT38, used by BBC Top Gear in its adventure to the Magnetic North Pole in 2007, (and later the South Pole) where it carried the film crew 1400 kilometers, over sea ice, bolder fields and number of small islands.
It conquered the UAE Desert and awaits adventurers in this region for another 2 months at Al Futtaim Motors. DriveME is trying to get you an on-the-spot experience report!
The MINI with Rolls Royce trims is in Dubai!
MINI inspired by Goodwood is here. The special edition of the three-door MINI that was developed in close collaboration with the Rolls-Royce Motor Cars design team is set to charm MINI lovers in the UAE.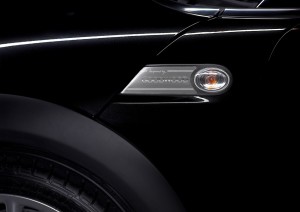 The most striking features of the exterior design are the body finish in the exclusive Rolls-Royce colour Diamond Black metallic and unique 17-inch light alloy wheels sporting a multi-spoke design.
The MINI INSPIRED BY GOODWOOD is available as MINI Cooper S variant only and powered by a l.6-litre 184 bhp four-cylinder engine with Twin Scroll turbocharger, direct petrol injection and variable valve control.
Audi R8e-tron sets world record at Nürburgring
If you thought of electric cars as some boring contraptions that were supposed to chug us along on the road to an energy-deficient future on its energy-efficient wings, you couldn't be farther away from truth, as Audi has proven at Nürburgring. The R8 e-tron has set a world record for a production vehicle with an electric drive system on the Nürburgring Nordschleife – the toughest test track in the world.
With this Audi has achieved yet another milestone in its history, following overall wins at the 24-hour races at the Nürburgring and Le Mans.
Top News this week
was last modified:
February 22nd, 2016
by