Stepping out of my bed on a Saturday morning, going for a short drive, I didn't bother to pull over anything more than what was absolutely essential to pass off without being fined for an inappropriate presence in public. And that's the morning I chose to park the Aston Martin Rapide S and give it a once over while speaking my mental notes on the car, into my Dictaphone.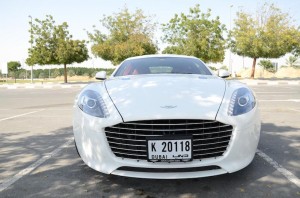 So into this little device held up in my hand, I kept pouring words punctuated with occasional peeks into the closed car, just to stay in the mood of the narrative. And that's exactly when a 4×4 pulled up alongside the rims of the parking lot. There was nothing unusual about the SUV but a dark window rolled down and the driver summoned me towards him with authority. With stern eyes, he asked me for my pataka (occupation ID).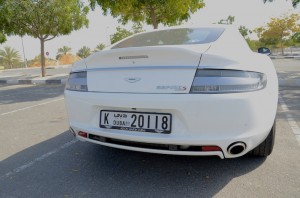 Immediately, I knew what was happening. There was this walking rag doll –more like a scarecrow – walking around this million dirham car, peeping into it and speaking into a device probably to alert his accomplice. Absolute caution was warranted from the side of the plainclothesmen. But on my side, all the caution in the world rose like a Tsunami to alert myself against imposters who might have seen the chance to drive away with an Aston Martin Rapide S, knocking me down to fear the least.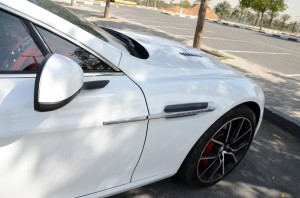 So there was caution on both sides. In fact, I asked for their patakas as well. After a good, long look at their credentials, still caution overwhelming the apparent credibility, I handed over the mulkiya (vehicle registration card) and my pataka to them. The man who had not stepped out of the SUV got busy with his telephone and his console screen, obviously to confirm my identity. Left with the other err… plainclothesman (it's so hard to shoo away the disbelief!) I remained taut with tension, preparing myself to ward off any possible attack.
As clearance came in from the headquarters and tensions eased, me and the official who was 'guarding' me entered into a long chat about cars in general. With an awkward smile, I shared my earlier concern with him. The genial guy said he understood such fears and which is why both the policemen were more than willing to let me stare at their credentials as long as I wanted, instead of simply flashing them before getting to business.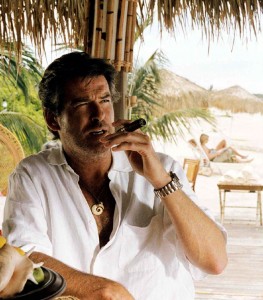 Now it was time to LOL! We chatted more about Aston Martins before they drove off, leaving behind a lesson: If you are driving an Aston Martin, either dress up like 007 himself or at least look like Pierce Brosnan at some anonymous island party, unshaven and dressed like a caveman; nevertheless dashing.
When driving an Aston Martin, remember to dress like Bond.
was last modified:
February 24th, 2016
by